Laundry means a thankless, tiresome, and tedious task for many people. Trying to squeeze in time to take care of laundry seems almost impossible between your busy schedule, work demands, and social life. In addition, after your laundry is clean and dry, you still have to fold it and put it away. Who wants to do that?
If you fall into the category of people who loathe doing laundry, you are not alone. Thankfully, there's an answer for your laundry blues. The alternative? Wash and fold services.
In this blog, we will go over the details of wash and fold work, the benefits of this service, the costs, and where you can get it done. Read on for everything you need to know to put an end to loathsome laundry days in the East Bay area.
What is Wash and Fold Work?
Sometimes known as fluff and fold, wash and fold is the process of dropping off your laundry with a dry cleaner for professional cleaning, drying, and folding. When your dry cleaner has finished with your laundry, you simply stop by and pick up your neat, folded, and professionally cleaned clothing.
Related: When To Get Wedding Dress Alterations
What is Fluff and Fold?
We know it can be a little confusing when different businesses use varying terms. For example, one company may use the term "wash and fold," while another uses "fluff and fold." However, the terms mean the same thing. Fluff and fold services are the same as wash and fold – and both guarantee that your clothes will come out looking fresher, cleaner, and crisper than ever before.
Related: Washing Clothes With Poison Ivy
How Does Drop-Off Laundry Work?
The wash and fold laundry service process consists of washing the garments in a commercial washing machine using top-of-the-line cleaning products, then drying them in a commercial dryer.
After drying your items, employees will double-check each piece of clothing to determine if it meets their company's cleanliness standards. Finally, if these garments meet their rigorous guidelines, they fold them before preparing them for pickup or delivery.
While this service is perfect for the hectic lives of busy professionals, families, and laundry haters, it does not include extra laundry services. For example, when you request wash and fold services, most dry cleaning companies do not include ironing or pressing without an additional fee.
Alternatively, traditional dry cleaning companies may include ironing and pressing in your service fee. However, it does not take away from the sheer convenience of the wash and fold service.
If you've found yourself thinking, "This must cost an arm and a leg," don't think too soon. In many cases, the price of wash and fold laundry services may surprise you. Unlike traditional dry cleaning, wash and fold services charge by the pound instead of the garment, resulting in lower costs for many customers.
Related: What Size Washer Do You Need When You Wash a King Comforter?
What Are the Benefits of Wash and Fold Services?
Local wash and fold laundry services offer countless benefits for customers. Perhaps most exciting is the guarantee that your favorite dry cleaning company will quickly, effectively, and professionally refresh your clothing and textiles.
Further, your dry cleaning company will take special care with delicate garments that require specific washing or drying methods. Often, customers forget to hand-wash delicate items. When this happens, these pieces of clothing may sustain damage. This is never the case with wash and fold services.
Another benefit of wash and fold laundry services is that many companies offer subscription plans. Subscription services allow customers to save even more time during the wash and fold process, thanks to a once-monthly payment and easy drop-off options that eliminate the need to wait in line. In addition to the time-saving aspect of monthly subscriptions, these prices are often less than paying each time.
Finally, wash and fold services provide the highest-quality cleaning for your garments and textiles.
Professional dry cleaners do not use cheap detergents or unreliable machines. Instead, they use commercial-grade washers and dryers ideal for cleaning and drying clothing with maximum effectiveness and speed, along with high-quality wash and fold laundry supplies. As a result, your clothing will look and feel its best.
Related: How To Wash A Weighted Blanket.
What is a Wash and Fold Subscription Plan?
Many companies that provide wash and fold or fluff and fold services offer monthly subscription plans for their customers. These plans consist of discounted rates and easy monthly payments for clients who frequently bring in clothing for professional cleaning.
Many companies separate their monthly subscription plans into categories based on weight. For example, companies often divide their wash and fold subscription plans into three categories:
Small loads
Large loads
Family-sized loads
Companies then set their monthly subscription prices based on the weight of each category. For example, the small subscription service costs less than the family subscription service because smaller loads weigh less than a family-sized load.
If you've gotten this far and found yourself asking, "How many pounds of laundry does each plan include?" you're not alone. Typically, dry cleaning companies use the following guide to determine pricing.
Small-load pricing: Small-load pricing typically applies to a single person who accumulates roughly 30 pounds of laundry per month.
Large-load pricing: Two people usually generate twice as much laundry per month, resulting in about 60 pounds of laundry and affordable large-load pricing.
Family pricing: Family pricing applies to customers who accumulate more than 60 pounds of laundry per month. Family pricing often offers the most value for customers who accumulate substantial amounts of laundry each month.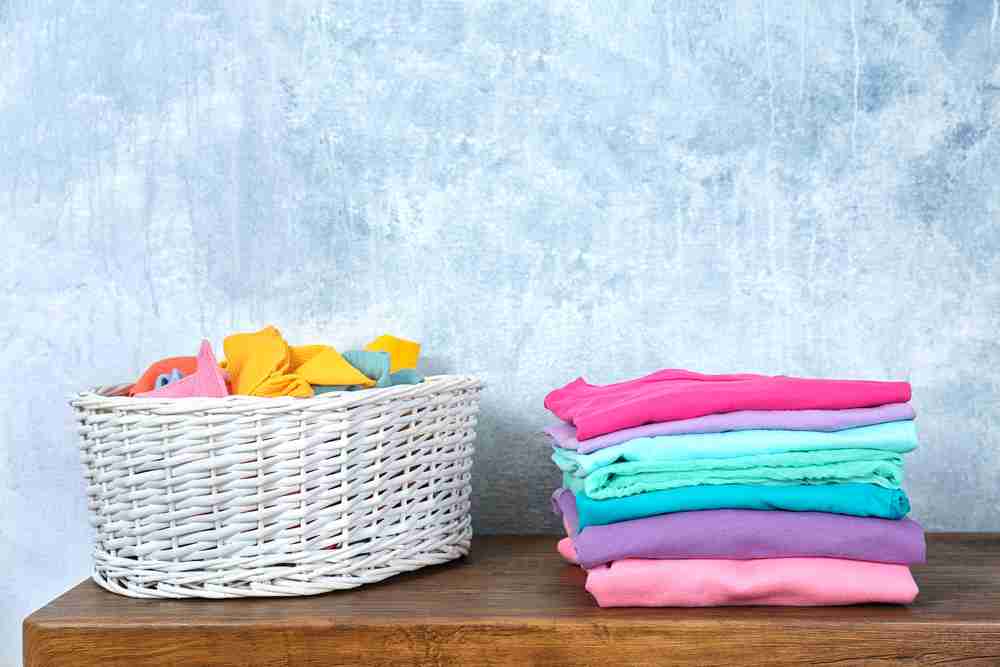 Where Do I Find Wash and Fold Services?
Ready to take advantage of wash and fold services? Look no further than Martinizing Dry Cleaning for all your wash and fold needs. Our state-of-the-art commercial washer and dryers, experienced, friendly staff, and flexible hours of operation make us the go-to laundry service in the East Bay area.
If you are wondering, "How does wash and fold work?" or want to schedule regular laundry services, give our Martinizing Dry Cleaning team a call today at 925-938-5000 for the care you can count on.