Our hygiene technicians at Martinizing Dry Cleaning receive hundreds of questions from budding Airbnb owners and homemakers about how to wash a comforter without damaging their laundry machines every year. Some of their inquiries read, "Can you wash comforters with fabric softeners?" and "Can you wash comforters with sheets in one load?" Our customers are responsible for our award-winning status as the Most Trusted Dry Cleaner in East Bay, and we love telling them how to take care of their fabrics the right way.
In this explainer, our laundry professionals will detail how you can wash comforters without damaging them, how often you should do it, and the cleaning materials you need for efficient long-term care. We will discuss some of the techniques we use in our shop to reduce the load on your hands, laundry machines, and dryers.
How Often Should You Wash Your Bedding?
How Often To Wash a Comforter?
Most homemakers dread washing comforters because of their sheer size and volume, especially when wet, testing the tensile strength of many washing machines in East Bay every week. They represent some of the most time-consuming and labor-intensive fabric pieces to clean, and many professional dry-cleaning services reflect that in their prices. Some comforters cost thousands of dollars and feature delicate and high-thread-count constructions that could make a cleaning session feel like a high-stakes game.
According to experts like Jack Sukalac, the director of comforter manufacturing giant All About Down, you only need to wash your comforters and duvets every three to four years, even if you use them often.
Related: What Size Washer for King Comforter?
Should You Wash a Comforter Before Using It?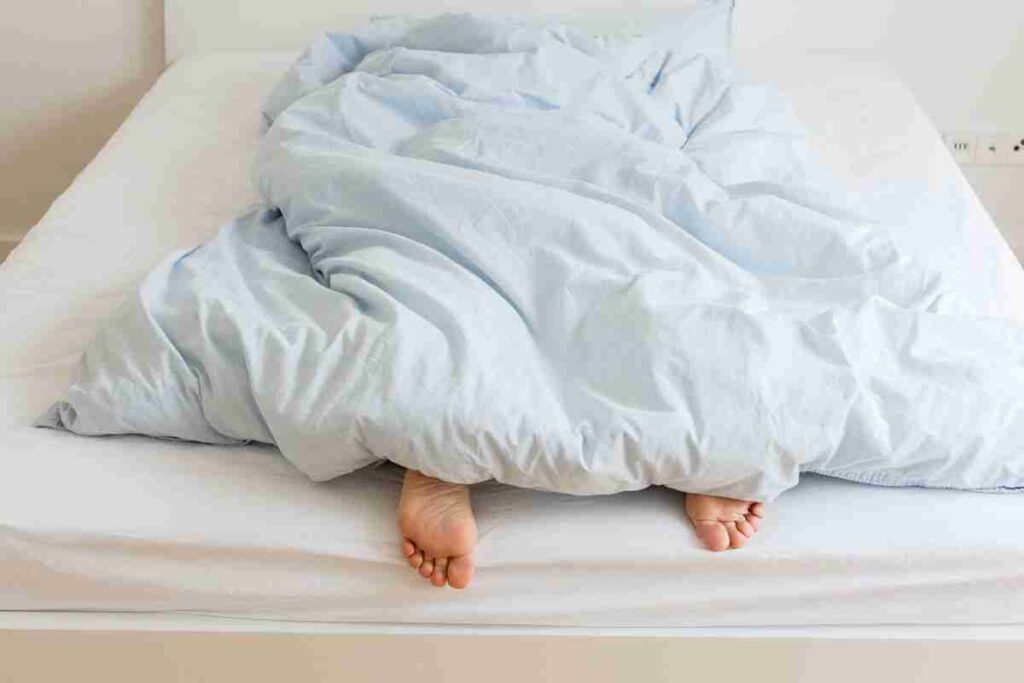 Watch out for some telltale signs of dirt and grime, like visible stains, deflation, and odor, before you take your comforters and duvets to the dry cleaners or throw them in the washer. Comforters feature a broad range of fabric combinations, and those with more wool, down alternatives, and down may require different maintenance schedules, so no hard and fast rule will tell you when to wash your comforter.
If you purchase a new one from the department store or factory outlet, we recommend washing it before use. It might have dust, dyes, excess chemicals, and components that may irritate your skin, which washing will remove. These harmful materials might still be present even if you receive your comforter in an airtight bag.
Use a Duvet Cover To Extend Time Between Washes
If you want to prolong intervals between washes, our laundry professionals recommend you use a duvet cover.
A duvet cover is like a thick pillowcase that acts as a protective layer for your beddings, using wool, feathers, and down or down alternatives to shield your comforter from dust and stains. Duvet covers prove far easier to wash than comforters because they are like bags filled with the same material as your bed sheets, even though American hoteliers tend to call them comforters too.
How Often Should You Wash Your Duvet Cover?
Duvet covers are significantly cheaper than comforters, so you can put them in the laundry chute whenever you feel like they are dirty without worrying if they will lose their luster. However, if you have multiple bedrooms, washing your duvet covers all at once can challenge the limits of your home machines. Instead, take them to a professional laundry service like Martinizing Dry Cleaning and let our experienced technicians do the heavy lifting for you.
How Often Should You Wash Blankets?
Most experts recommend that you wash your blankets once every couple of weeks, but your cleaning schedules might change depending on your needs and sleeping schedules. For example, if you have pollen or dust allergies, you might need to wash your blankets more often, and if you sweat a lot during sleep, you might need to change them every week.
If someone lies in your bed with a contagious illness, such as a common cold or the flu, you should wash your sheets immediately after they get well or stop using your bedroom for sleep.
At Martinizing Dry Cleaning, we serve many clients who wonder if they should wash their sheets more often if their golden retrievers, cats, and ferrets sleep in their beds. The answer is almost always yes, even if their pets are hypoallergenic.
How To Wash a Comforter With the Right Materials
The Care Label
At Martinizing Dry Cleaning, our technicians prefer not to dry clean comforters. Dry cleaning might wash away expensive organic dyes and damage their internal fiber content.
Comforters with high wool, down, silk, linen, and cotton content often shrink because they can absorb large amounts of water, releasing the air and tension that manufacturers weave into them on the production line. However, some comforters insist on dry-clean-only care. So review the care labels on your beddings before putting them in the washer.
Laundry Detergents
Our laundry technicians use a broad range of laundry detergents for cleaning comforters. We recommend the following brands and variants:
         Mrs. Meyer's Clean Day Lavender Scent with Essential Oils
        Tide Simply Clean & Fresh Liquid Laundry Detergent, Refreshing Breeze
        Tide Ultra Stain Release
        Seventh Generation Concentrated Laundry Detergent, Unscented
       All Liquid Laundry Detergent with Stain Lifters, Clear for Sensitive Skin
We recommend using scent-free and dye-free versions of laundry detergents as they make the safest choices in our professional opinion. However, many brands use organic fragrances that dissolve well in the wash. We never use fabric conditioners and softeners on comforters as they might reduce their fluff levels or cause them to shrink.
Our professionals avoid powdered detergents because they might leave a residue if they don't dissolve 100% in the machine. Our cleaning agents are always non-toxic, safe for sensitive skin, and eco-friendly.
Spot Cleaners
If you find stains on your comforters, like blood, sauce, and oils, use enzyme sprays like the Zout Laundry Stain Remover Spray or Shout Triple-Acting before putting them in the machine. These two variants are safe for color-fast fabrics. They also work in various water temperatures.
A Washer and Dryer That Can Handle Your Comforters
Most home machines are too small to wash more than two comforters at a time. Get an electronic weighing scale, put your comforters in a basket, and weigh them. If they are heavier than 16 pounds, you need a machine that measures at least 4.5 cubic feet in size.
Most laundry room washers are 3.5 cubic feet and can accommodate a queen-size comforter. A 3.8 cubic feet washer can fit a king-size comforter, although it is all it can hold in one load.
A comforter needs to tumble and bounce around freely inside a dryer, so we recommend a model at least twice the size of your washer. If you don't live in a polluted area, air-drying your comforters offers the most cost-efficient choice.
How Much Time Will You Need To Clean a Comforter?
A comforter requires two to three rinse cycles to remove 100% of the detergent and soap in its inner layers. It also needs low heat drying with periodic repositioning to eliminate the wet spots the machine might miss. Altogether, the process takes at least three hours.
A Simple, Step-by-Step Guide to Cleaning Your Comforters
Step 1: Spot Treat
Spray Zout or Shout directly onto new stains. If you spot tough stains like blood, wine, and coffee, use OxiClean for an overnight spot-soak. Rub opposing sides of the stained fabric together to lift the stains before putting the comforter in a washing machine.
Step 2: Machine Wash Repeatedly
Place your comforter in a washing machine on a delicate cycle with warm or cold water and one of our recommended detergents. When it finishes, put it through a rinse cycle with no fabric softeners or soap to remove detergent residue from its inner layers. Readjust your comforter a few times per rinse cycle to eliminate folded or hidden spots that your machine might miss.
Machine wash and spot treat your comforter repeatedly until you erase all traces of stains and blemishes because they will set once you place it in the dryer.
If the stains do not respond to your treatments, get some professional help.
Step 3: Dry on Low Heat
Place your comforter in a dryer on low to medium heat. Reposition and remove clumps every 20 to 30 minutes to ensure thorough drying.
Set your dryer on high heat for a maximum time of 20 minutes to kill dust mites, allergens, and microbes. Prolonged exposure to high heat can harm silk, down, and wool.
Save Time and Money by Having Trained Professionals Wash Your Comforters
In a post-pandemic era where hygiene standards are higher than ever, every homeowner and Airbnb proprietor must learn how to sanitize their beddings while keeping them soft, fresh, and brand-new. If you're in the East Bay, California, contact Martinizing Dry Cleaning to learn more about how to wash a comforter. Dial (925) 938-5000 today and get a free consultation.